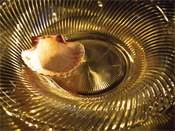 Baptism is both a command and a promise. Baptism is a Sacrament, a mystery by which God delivers the forgiveness of sins to us wrapped in the physical element of water.
Click here for more information about what we believe about Baptism.
To schedule a baptism, please call the church.
To read Luther's Small Catechism, click on Baptism.
What's the big deal about baptism?
Bryan Wolfmueller, January 16, 2019
Infant Baptism? by Rev. Chris Rosebrough
on Issues Etc. – May 18, 2021