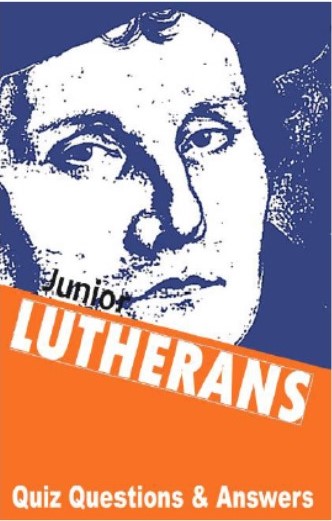 Jr. Lutherans
Think Bible Bowl. A buzzer system is used. Teams compete against each other. When more than two team are involved, a round robin will be created.
The goal of Junior Lutherans (JL) is that children will memorize the Word of God, understand its teachings, know Luther's Small Catechism and stay Lutheran throughout their entire lives.
Maybe you had Public Questioning when you were confirmed. To get ready for it, you memorized the Catechism and Bible Verses. It will be similar for Jr. Lutherans. This is a fun way of getting the kids to want to learn and speak back the important facts of the Christian faith.
Here are more of the details.
A team consists of between two (2) and eight (8) children, all from the same church. A church may have more than one team. Children can range in age from 4 to 12: Ages 4-5 for "X Quizzers," Ages 6-8 for "Novices," Ages 9-12 for "Seniors" as of September 1st of the quizzing season. The JL season runs annually from September through May. A child may compete through the entire season and postseason even though he/she completes the sixth grade during the year.
At most, four (4) quizzers per team are selected by the head coach to begin the quiz match.
The quizmaster reads a question from the Jr. Lutheran Quiz Questions and Answers Booklet. The questions all deal with the Bible, the Catechism, and church history.
Here are some of the easy questions.
10. How many books are in the New Testament? 27
11. What language is the New Testament written in? Greek
12. Who wrote most of the books in the New Testament? St. Paul
13. What is the common name given to the first four books of the New Testament? The Gospels
262. What are the Sacraments and the Word of God? The Means of Grace
264. Who was the principal author of the Augsburg Confession of 1530? Philipp Melanchthon
265. How old was Luther when he died? 63
A buzzer system is used to determine who buzzed in first. Players are given 30 seconds to answer the question. Points are given for correct answers. Points are subtracted for incorrect answers. When answered incorrectly, the opposing team is given the opportunity to answer the question. Each question is either worth 10, 20, or 30 points, depending on its difficulty.
Talk to Pastor Schmidt if you have any questions.