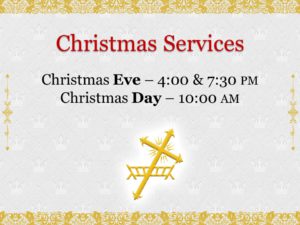 Listed below is our Christmas Schedule 2021
If you are new to St. Luke's, click here.
Christmas Services
Each service is filled with your favorite
Christmas Carols and the story of Jesus' birth.
Christmas Eve
4:00 PM – "Happy Birthday Jesus" Service
This service is for God's children of all ages.
It includes balloons, flameless candles,
your favorite Christmas Carols,
a Christmas story from a picture book for the sermon,
and a birthday cake.
After the service,
we will enjoy birthday cupcakes.
Balloons and party bags will be passed out to every child.
7:30 PM – A Traditional Christmas Eve Service
including Lessons and Carols with Candlelight

This service tells the story of Jesus birth beginning with the Old Testament prophecies.
Join us on the most holy of nights as we ponder the love that God has for us in Christ.
This service includes your favorite Christmas Carols and  flameless candles.
Christmas Day
10:00 AM – "The Nativity of our Lord" Service
We celebrate the birth of our Savior, the Son of God.
This service will include Holy Communion.
Please NOTE – There will NOT be a 6:00 p.m. Worship Service on Saturday, Christmas Day, December 25.