22

 Lent is a season of penitence, reflection, prayer, and catechesis.  Lent is 40 days long, but does not include Sundays.  It begins with Ash Wednesday on February 22, 2023.  For more information about Lent, please click on Worship/Congregational Life – Church Year.
For our Ash Wednesday service, we have the Imposition of Ashes and Holy Communion.
Every Wednesday during the Lenten season we have a midweek worship service at 7:30 PM.
The sermon theme for the 2023 Lenten Midweek Services will be "Chronicles of the King."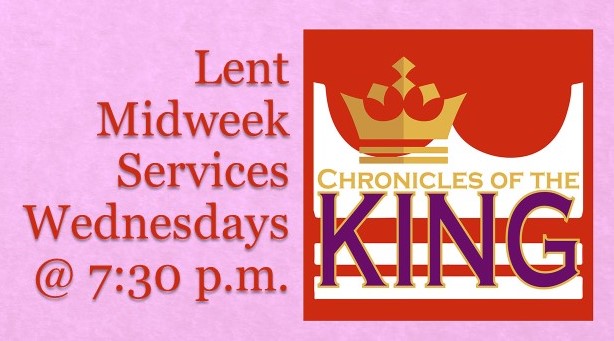 Lenten Midweek Series—Chronicles of the King
Ash Wednesday: Count on It: David 1 Chronicles 21:1–2, 7–19, 26–27
Lenten Midweek 2: Blood Money: Asa, 2 Chronicles 14:1–7; 16:1–13
Lenten Midweek 3: Strange Bedfellows: Jehoshaphat, 2 Chronicles 17:1–6; 18:1–3; 19:1–7
Lenten Midweek 4: Cleaning House: Joash, 2 Chronicles 24:1–4, 17–25
Lenten Midweek 5: Know Thyself: Uzziah, 2 Chronicles 26:1–5, 15b–21
Lenten Midweek 6: Our Last Hope: Josiah, 2 Chronicles 34:1–3; 35:20–27
Maundy Thursday: Prepared Food: Hezekiah, 2 Chronicles 30:1–5, 10–13, 22b–27
Good Friday: WORST. BEST. KING. EVER.: Manasseh, 2 Chronicles 33:1–20
Easter Vigil: After the End, Ezekiel 37:1–14, 24–28
Easter Day: Long Lives the King of Kings!, Psalm 146
Click below for a Lenten devotional booklet produced by Lutheran Hour Ministries.
Lenten Devotion 2023 Large Print (Finished size: 8.5″ x 11″) Colored
Lenten Devotion 2023 Large Print (Finished size: 8.5″ x 11″) Black and White
Lenten Devotion 2023 Booklet (Finished size: 5.5″ x 8.5″) Colored
Lenten Devotion 2023 Booklet (Finished size: 5.5″ x 8.5″) Black and White